Swe.de,
the Swedish department at y-1,
is a group of twelve artists that exhibits regularly at the gallery and produce Wednesday happenings as well as group shows like Stuffit at y-1. Their ambition is to present, through different projects, Swedish contemporary art. Swe.de want to contribute to a more extensive sharing between artists and to create a more fun atmosphere to work in.
The group is currently working with a exhibition tour produced by Riksutställningar and the first opening will be at Uppsala Konstmuseum in april 2000.
More info and tour schedule can be found on Riksutställningars home page.

swe.de artists:
Johanna Billing, Markus Degerman, Ingrid Eriksson, Peter Geschwind, Carina Gunnars, Erla Haraldsdóttir, Karin Johnson, Anna Kindgren, Gunilla Klingberg, Bo Melin, Bella Rune and Christine Ödlund.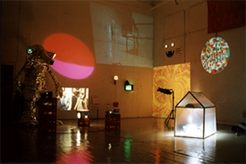 In April -99 Swe.de made the group exhitition "Lightshow" at Signal Gallery, Malmo.